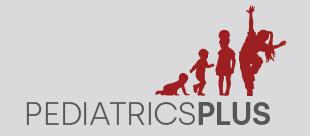 Below is a list of some of our office policies. These policies are designed to help make our jobs at Pediatrics Plus easier in order that we can help make your visits here go as smoothly as possible. They are not meant to harass you or to make you uncomfortable during or after your stay. We respect our patients and their families very much and hope that they will want to return here for all of their doctor-visits. If it is possible to have fun and be happy at a doctor's office, we want that fun and happiness to happen at Pediatrics Plus.
All patients below the age of 18 years must be accompanied by a legal parent or guardian.
Please have a current copy of your insurance card available for every appointment.
Please notify the front-desk of any changes of address or phone number since your last visit.
Please do not place "doo-doo" diapers in the trash cans. Instead, ask an employee for assistance.
Please turn off all cell phones and computers when the nurse or practitioner enters the exam room.
OSHA strictly prohibits food and drink in a doctor's office. Please leave these items outside the building but not as litter. Co-payments are a necessary part of a modern-day visit to the doctor's office. All co-payments are due at the time of service and will be collected before the patient is seen. A $5.00 dollar charge will be added to your balance for any co-payments not collected at the time of service.
A $35.00 dollar "no show" fee will be charged for all missed well-child or sick-child appointments and a $50.00 dollar "no show" fee will be charged for all missed consultation appointments. Missed appointments include those in which a patient never shows for a scheduled visit and those in which a patient is more than 15 minutes late without first calling to inform our office that they will not arrive on time. A 24 hour notice must be given in order to cancel or reschedule an appointment.
Patients who come to our office to be seen without having a scheduled appointment will be charged a $30.00 dollar "walk-in" fee. This includes siblings of scheduled patients. Please inform the front-office (not the practitioner or nurse) if a sibling needs to be seen. Walk-ins will be worked into the schedule as it is unfair to make scheduled patients wait while unscheduled patients are seen before them.
Families will be charged $20.00 dollars for all calls made to the office outside of normal business hours.
The fee for all copied records is $1.00 per page. A fee of $5.00 dollars will be charged to fill out any form (including HRS forms) that requires a practitioner's signature if the request is made at any time other than during the patient's scheduled office visit.